Our December session is scheduled for Saturday the 19th from 5pm-8pm. This will be Dr. Sketchy's last session at
The Thunderbird Lounge
located inside
The Aruba Hotel and Spa
. Located at 1215 Las Vegas Blvd. S. The Aruba has been a great home for Sketchy's for the last year and a half. With the start of a new year around the corner, Dr. Sketchy's Las Vegas will also be starting a new. In 2010 we will be at a new location and a new time. More info TBA, so stay tuned Art Monkeys.
Our Model for December is
Jenevieve Zanasiotes the
Serpentine Sorceress
.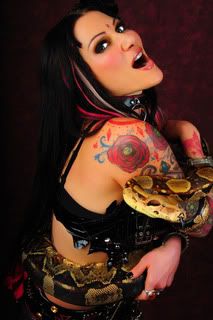 ..
Jenevieve is from the enchanted otherworld where sorceress faeries fly by the dark side of the moonlight. She conjures up her dark tribal style of belly dance and snake charming magick. When not dancing this Serpentine Sorceress manifests her fairy form doing tarot readings and other forms of divine divination.
Your host for this session will be
Cha Cha Velour
.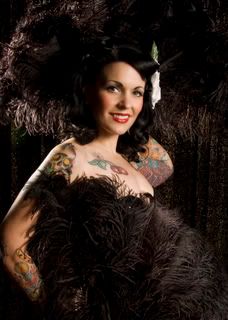 Cha Cha is a member of
Babes in Sin Burlesque
, Las Vegas' only vintage inspired Burlesque troupe. Their motto is "all tease, no sleaze". This "Burlesque Beauty, Tattooed Cutie" is also an award winning and international solo performer. Cha Cha runs
Dr. Sketchy's Las Vegas
.
Admission is $10, payable at the door. There will be no reserve seating, so please come early to catch a good seat and a table. We will be allowing a few photographers, but you need to contact Dr. Sketchy's Las Vegas ahead of time to reserve a spot. There will be contests and prizes! Prizes provided by Dr. Sketchy's Las Vegas, The Thunderbird Lounge, and our newest sponsor Baby Tattoo Books. E-mail lasvegasdrsketchys@yahoo.com for more info.