Our October session is scheduled for Saturday the 17th from 5pm-8pm. We will be having Dr. Sketchy's the third Saturday of every month at this time. Our location is
The Thunderbird Lounge
located inside
The Aruba Hotel and Spa
. Located at 1215 Las Vegas Blvd. S.
Our Model for October is
Lou
Lou Roxy
.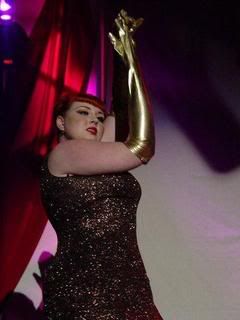 Lou Lou has been a burlesque performer and sometime pin up model since 2003. She dances with Sin City Grind Kittens Burlesque, the first modern burlesque troupe here in Vegas. You can catch her performing around the Las Vegas area often. She have appeared in the film Camp Burlesque and the music video "I don't care" for The Pervz. Lou Lou has performed at the 2006 Fetish and Fantasy Ball, The 2005 Sin City Stomp, The 2005,2006,2007,and 2009 Pre-Viva Las Vegas Party which is put on by Wild Records. She has performed in shows with Demented are Go, Mad Sin, The Rocketz, Rezurex, Calavera, and The Silver State Slackers.
Your host for this session will be
Steve Horlock
.
Steve has been with Dr. Sketchy's Las Vegas since our start in the summer of 08'. He is a local Las Vegas artist who is no stranger to hosting a life drawing session. Steve is also a talented videographer and editor.
Admission is $10, payable at the door. There will be no reserve seating, so please come early to catch a good seat and a table. There will be pads of paper and sketching materials available for a small price. We will be allowing a few photographers. But you need to contact Dr. Sketchy's Las Vegas ahead of time to reserve a spot. There will be contests and prizes! Prizes provided by Dr. Sketchy's Las Vegas, The Thunderbird Lounge, and our newest sponsor Baby Tattoo Books. The bar will be having drink specials....did someone say 2 for1 till 6pm, so show up early to take advantage of this drink special! E-mail lasvegasdrsketchys@yahoo.com for more info.