Dr. Sketchy's is a life/figure drawing session with a twist. Dr. Sketchy's Anti-Art School is the little New York art event that has become an international movement. Started in 2005 by artist Molly Crabapple, the concept is simple... Artists draw glamorous Burlesque dancers and performance artists, compete in contests, and win wacky prizes. Oh yeah, there's booze too.
Monday, November 23, 2009
After over a month waiting Lou Lou Roxy's October session photos are finally here. All photos by Jay Sin.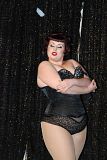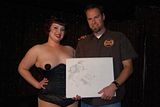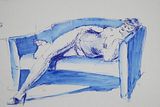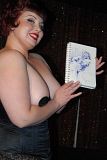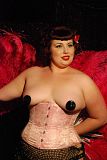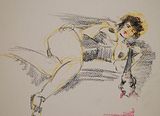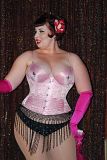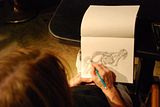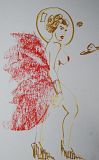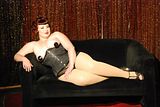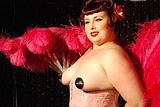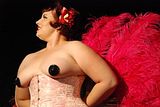 Posted by

Cha Cha Velour
at 10:01 AM
No comments:


Wednesday, November 18, 2009
Our November session is scheduled for Saturday the 21st from 5pm-8pm. We will be having Dr. Sketchy's the third Saturday of every month at this time. Our location is
The Thunderbird Lounge
located inside
The Aruba Hotel and Spa
. Located at 1215 Las Vegas Blvd. S. This time and location will be the same through December of this year. 2010 is up in the air but Dr. Sketchy's will continue monthly, just maybe at a different location and time.
Our Model for November is
Miss Karla Joy
.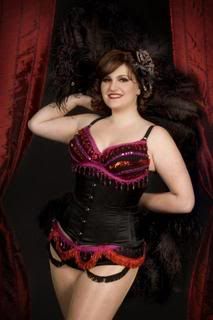 ..
Miss Karla Joy...The joy of your life, has been on the Las Vegas Burlesque scene for a little over a year now. She is the 2008 winner of the Miss all Tease no Sleaze Burlesque pageant. She is also a member of Babes in Sin Burlesque.
Your host for this session will be
Sue Nami Sake
.
Sue Nami has been dancing with local burlesque troupe
Babes in Sin
since 2006. She is also a trained belly and flamenco dancer.
Admission is $10, payable at the door. There will be no reserve seating, so please come early to catch a good seat and a table. There will be pads of paper and sketching materials available for a small price. We will be allowing a few photographers. But you need to contact Dr. Sketchy's Las Vegas ahead of time to reserve a spot. There will be contests and prizes! Prizes provided by Dr. Sketchy's Las Vegas, The Thunderbird Lounge, and our newest sponsor Baby Tattoo Books. The bar will be having drink specials....did someone say 2 for1 till 6pm, so show up early to take advantage of this drink special! E-mail lasvegasdrsketchys@yahoo.com for more info.
Posted by

Cha Cha Velour
at 10:20 AM
No comments: