The 3rd Annual All-Star session of Las Vegas Dr. Sketchy's Anti-Art School at The Burlesque Hall of Fame Weekend will be held Saturday June 5th from 1-4pm at Firefly inside The Plaza Hotel and Casino. The Plaza is located at 1 South Main Street Las Vegas, NV. The Firefly is located on the 2nd floor of The Plaza.
Las Vegas Dr. Sketchy's Anti-Art School is a life/figure drawing session with a twist. Dr. Sketchy's Anti-Art School is the little New York art event that has become an international movement. Started in 2005 by artist and Burlesque Performer Molly Crabapple, the concept is simple... Artists draw glamorous burlesque dancers and performance artists, compete in contests, and win wacky prizes. Oh yeah, there's booze too. From its humble beginnings in Brooklyn, Dr. Sketchy's now has over 110 branches from Hollywood to Helsinki, including London, Rome, Tokyo, Berlin, Melbourne, and now Las Vegas! Dr. Sketchy's will cure you of every boring art class you've ever been to. The common view on life-drawing classes involves a silent room, a bored model, and no liquor in sight. At Dr. Sketchy's it's different.
Admission is FREE! But please tip. There will be no reserve seating, so please come early to catch a good seat and a table. We will be allowing a few photographers, but you need to contact Las Vegas Dr. Sketchy's ahead of time to reserve a spot. Please no flash photography! There will be contests and prizes! Prizes provided by Dr. Sketchy's Las Vegas and Baby Tattoo Books. E-mail lasvegasdrsketchys@yahoo.com for more information.
Models for this session are:
Fleur Mystique
Fleur began as a belly dancer in 2004, but her love of all things sparkly carried her over to the wonderful world of Burlesque in 2008. She performs mostly in her hometown of Fresno, Ca., but she also performs in L.A. and will be expanding her travels. She is also currently studying ballroom dance.
Vi Vacious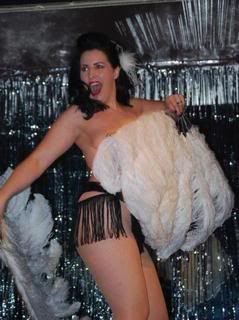 Vi is a Burlesque performer here in Las Vegas. Known as "The Cat's Pajamas", she moved from Boston a little over 3 years ago. Vi got her start in the Las Vegas Burlesque scene as the second runner-up in the Babes in Sin "Miss All Tease No Sleaze" Pageant. Vi has been performing as a solo Burlesque performer all around the city working with variety shows, live bands, and other Burlesque performers. She is "the kind of girl Russ Meyer would put in one of his films".
Lady Monster
Straight outta the mouth of hell, comes A Queen of the Fire Tassels and Satans Angel's Own Protégé: Lady Monster! She's been hitting the stage from an early age, taking chances and never looking back. Lady Monster was unearthed from the basement of an art gallery, reading her personal erotica in Columbus, Ohio in 1992. Moving to San Francisco she has become a tour de force artiste. Stripping at the speed of seduction - Lady Monster will rock your world. Always on the prowl, showing a sexy good time. Revealing her ample talents in a burlesque tease, showing you how hot a big girl can be. Sex is her passion and she will enchant you with her fire.
Hosts for this session are:
Cha Cha Velour
Cha Cha is "The Burlesque Beauty, Tattooed Cutie". An award winning and international Burlesque performer based out of Las Vegas. Cha Cha has been a member of Las Vegas' only vintage inspired troupe, Babes in Sin Burlesque since 2006. As of lately she has been exploring her solo career. She is the "mother hen" of the Las Vegas Burlesque scene, heading up a movement to expand the scene and encourage new performers to start, as well as hosting and welcoming visiting performers with open arms. Cha Cha is also the principal of Las Vegas Dr. Sketchy' Anti-Art School.
Cherry Typhoon
Cherry has been a drama director in Tokyo, Japan since 1999. In 2003 she formed Murasaki Babydolls with Violet Eva. They performed at Tease-O-Rama 2005, Miss Exotic World 2006(winning Best Troupe). In 2007 Cherry started solo-performing. In 2008, she performed at Montreal Fringe Festival and several other Burlesque and Theatrical stages in Japan and North America. In 2009 Cherry Typhoon was awarded the "Rosita Royse Award" at Montreal Burlesque Festival.
Baby Le'Strange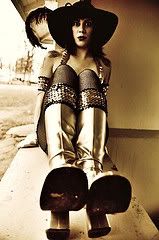 Baby grew up in the dirty steel town of Pittsburgh, Pennsylvania. Named after a song from glitter rock icons T. Rex, Baby was destined to take to the stage. At an early age her mother enrolled her in dance lessons, but it quickly became clear that Baby would much rather dance wild and free than follow the rigid rules set by her instructor. With such a reputation to live up to, Baby set her sights on rock 'n roll. She longed to perform on stage like all the rock stars she envied. In 2007 Baby had an amazing realization - she could
take her rock 'n roll dreams to the burlesque stage! Baby's style is inspired of three of her favorite things: classic burlesque, glam rock and female superheros. Baby has been seen all over Oregon and Washington. She has also appeared on the Tease O Rama 2008 Road Show and the Texas Burlesque Fest.
Festival 2010.