The May session of Las Vegas Dr. Sketchy's will take place on Tuesday the 18th from 7pm-10pm. Our location is Dino's Lounge located at 1516 Las Vegas Blvd S. Las Vegas, NV 89104
Our Model for this session is Emma.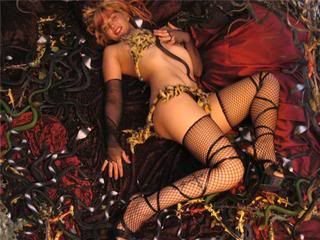 Emma is an artist, drummer, Vegas native, and nude model. She has been a nude model since 18 years of age. As an artist she loves to embellish set design...as you can see in her photo.
Your host for this session will be Cha Cha Velour.
www.chachavelour.com
Cha Cha is known as the Burlesque Beauty, Tattooed Cutie. She is award winning and international Burlesque performer. Cha Cha is also the principal of Las Vegas Dr. Sketchy's Anti-Art School.
Admission is FREE! But please tip. There will be no reserve seating, so please come early to catch a good seat and a table. We will be allowing a few photographers, but you need to contact Las Vegas Dr. Sketchy's ahead of time to reserve a spot. There will be contests and prizes! Prizes provided by Dr. Sketchy's Las Vegas and Baby Tattoo Books. Drink specials from your bartender, Trish and sandwich specials from Naked City Sandwich shop located next door to Dino's. E-mail lasvegasdrsketchys@yahoo.com for more information.