The July session of Las Vegas Dr. Sketchy's will take place on Tuesday the 20th from 7pm-10pm. Our location is Dino's Lounge located at 1516 Las Vegas Blvd S. Las Vegas, NV 89104
Admission is FREE! But please tip. There will be no reserve seating, so please come early to catch a good seat and a table. We will be allowing a few photographers, but you need to contact Las Vegas Dr. Sketchy's ahead of time to reserve a spot.
Please no flash photography!
There will be contests and prizes! Prizes provided by Dr. Sketchy's Las Vegas and Baby Tattoo Books. E-mail lasvegasdrsketchys@yahoo.com for more information.
Our July model is Lisa Luxe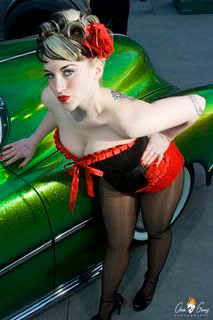 Lisa Luxe (aka the Pocket Pinup) is a cocktail server with a passion for
modeling. Her first shoot was in December 2008 and has been going strong since. She has competed in several pin-up competitions, taking first at Hell Bound Havoc and first at Grand Nationals in Pomona. Check her out at:
Model Mayhem
:#1073036 and
www.myspace.com/LisaDLuxe